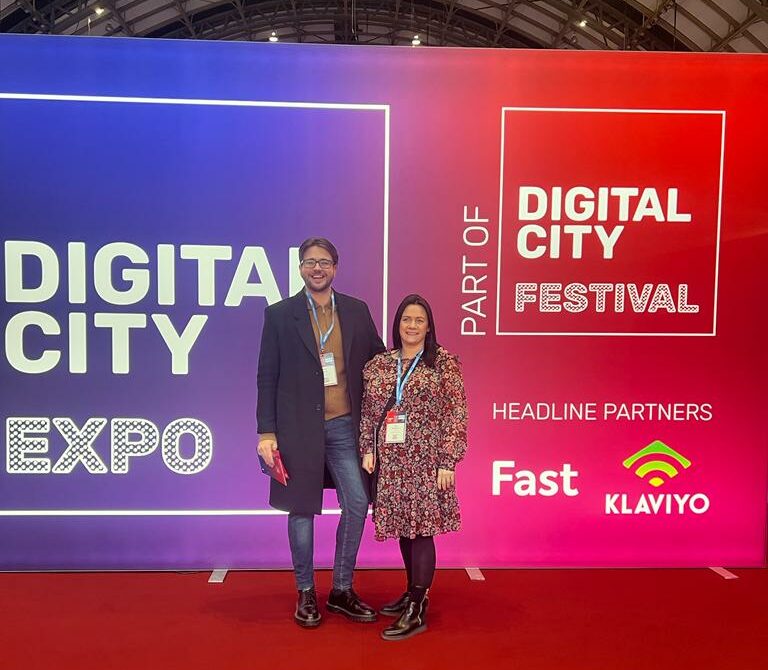 On 10th March 2022, Manchester was buzzing with digital and tech experts as the annual Digital City Festival took place. Welcoming over 1,500 attendees to learn, network and explore the latest tech innovations, the event hosted fascinating talks from some of the UK's leading digital businesses.
If you couldn't make it on the day, you can 'Watch on Demand' some of the progressive expert content from this not to be missed two-day event.
Here are our festival highlights.
We arrived at a packed Manchester Central Convention Complex and were instantly greeted by its electric atmosphere.
After visiting exhibitor stands in the different event areas; Marketing, Digital and Tech, and E-commerce, we headed straight to a keynote talk, titled 'WTF Are NFT's?!', from Mike Blake-Crawford, Chief Strategy Officer at Flight Story.
A suitable title for us! We entered the keynote theatre as interested Metaverse amateurs, and left feeling slightly smug about our newfound knowledge on the topic!
Our takeaways from the session:
1. The Metaverse is ever-growing and represents a 'new frontier'.
2. The current areas of opportunity are across digital collectables, digital fashion and virtual experiences.
3. The unstable nature of our real-world experience will continue to drive Metaverse growth.
Next up, we headed straight to a Marketing Masterclass on, 'The Power of Repurposing: How to Maximise Your Content' by Amy Woods, from Content 10x's.
Something that stood out to us from this talk was learning about how brands deliver high impact marketing campaigns by adapting their content for all audiences. This is called repurposing.
In short, this can mean taking a new piece of video content and translating it into written form, like a written blog post, an audio podcast, and so on.
By driving key messages and values through content, a strong connection can be made with the audience, creating maximum impact. Amy's advice? Treat your content like a start-up business. It must be agile and responsive and change quickly in order to be successful.
Alongside the fantastic talks from digital leaders from around the world and exhibitions from businesses who are top of the tech ladder, there was an unrivalled opportunity to connect in a way that hasn't been available for a long time. It was this element of the festival that our team took the most from as we made new friends and re-connected with familiar faces to discuss new perspectives on the digital sphere.
It was a day of exhilarating keynote talks, proactive networking, and a chance to experience all that the digital field has to offer. The Digital City Festival is certainly not one to miss out on next year!